About Footage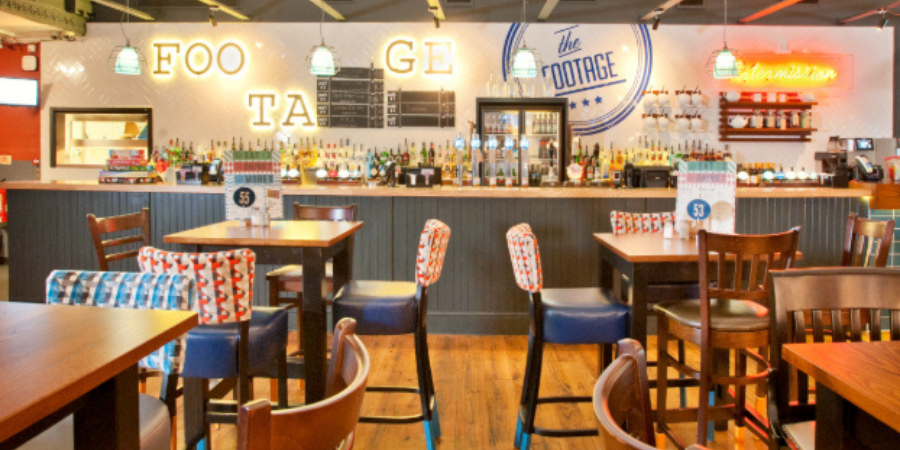 WELCOME TO FOOTAGE!
THE Greatest Bar in Manchester!
We're sat right at the heart of Oxford Road, and just a stones throw from the city centre.
We boast two of Manchester's BIGGEST screens and a balcony to see them from in our unique cinematic setting.
We also like to think we have a little something for everyone; whether you're sport watching, net surfing, craft loving, food nomming, cocktail drinking, pint sinking or just looking for some friendly chilling. WE HAVE IT ALL!

SPORT ON TV
We show all live sport and have 3 HD sky boxes, the biggest screen in manchester, BT sport and loads of TV... if you want any sport on in any area of the venue just ask at the bar.
We have always been known for epic sport and on big games the atmosphere is like no other you've witnessed in a bar, it's positively spine tingling (just see our World Cup pics for proof) so there really is no better place to watch the sport.

FREE SUPER FAST WIFI and because we know how frustrating it can be when you're searching for a plug and have no charge left on you're phone or tablet, just ask at the bar - and we'll get you recharged in no time, we can't guarantee that we have every cable, but we'll do our best to get you recharged - with no charge

PRINTING
need a few pages printing urgently? you can print directly from your laptop - just ask at the bar for more details or just log on to our WIFI and in your browser type PRINT.ME

(VIRTUAL) JUKE BOX
Fancy being a secret DJ? We've installed a great new system allowing you to choose your music, without even leaving your seat. Download the FREE app and choose your favourite tracks - app name is: SECRET DJ
And wait until you hear about our awesome nights...

THE MORE CARD
We've launched a brilliant new rewards card just for you
It's a brilliantly simple too- just scan your card every time you order drinks or food at the bar and we'll add points to your card (10 points for every £1 spent)
When you've reached 200 points, which is worth £2, you can start redeeming or keep on saving your points for a big event.
Sign up today and register your card online and you will receive 200 points

BEER'S THE THING!
We make no apology WE LOVE BEER IN ALL ITS FORMS!! We make no distinction among lagers, bitters, cask, or craft - if it's great beer, we seek it and serve it!
In addition to your firm favourites you'll find a regularly changing selection of cask and craft beers from just up the road to the USA. Our craft beer range has some real crackers to take your taste buds by storm.
Just ask what's on tap today - and any of the team will be glad to talk through your options, and even give you a taster.